TAITO - Battle Gear 4 Tuned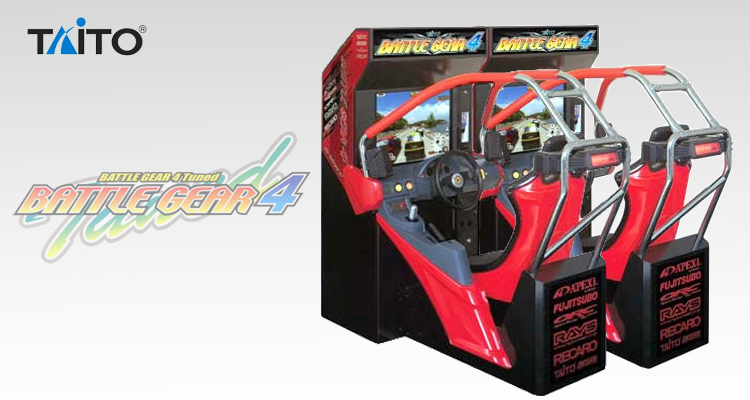 PRODUCT OVERVIEW
Battle Gear 4 Tuned is the upgrade version of Battle Gear 4 a competitive car racing game from Taito released in 2007. The Tuned version includes more new cars, tracks and a new game mode. Battle Gear 4 Tuned features a 6 shift gear stick, a handbrake, 3 pedals including a clutch, forced feedback steering and buttons for Nitrous Oxide and other controls. Battle Gear 4 Tuned runs on the Taito Type X motherboard with capability of connection to the internet. Using a special separately sold key, players have access to time attack records and similar information online and can upload their new records. Players can also have access to their cars from the virtual garage and perform extensive modifications to their cars.
KEY FEATURES OF BATTLE GEAR 4
Battle Gear 4 Tuned has 5 modes of racing:


Event race. Periodically Taito announces special races that are restricted to tuned cars. Each key is only allowed to participate once in each event race. Players attempt to set the best time (or drift point record in drift mode) to compete against other players.
Race mode. This allows players to race various levels of opponents on different tracks. The opponents are computer cars within the same class of the players' car. The game defaults the opponents' skill levels from 1 to 10, but it can be extended to level 98. Levels over 10 can only be unlocked by beating the previous level of opponents.
Drift mode. This is the new add-on in BG4 Tuned where the player drifts his car around the corners, attempting to gain the maximum amount of points.
One make race. This is similar to the race mode, but the opponents appear with the same car model as the player.
Time attack. This is the mode where the player attempts to set the best finishing time of the selected track.
Battle mode. This is a local race and the most popular with linked cabinets where drivers race against each other. This mode can only be selected when there is more than one player competing and works also without the internet service connection.

Cars are divided into 5 classes, class S, A, B, C, D. Some cars from the classes named are listed below:

Class S - All cars with performance parts installed and tuned regardless of the original level and the degree of modification.
Class A - 270–280 horsepower cars including: Honda NSX NSX-R, Mazda RX-7, Mitsubishi Lancer Evolution IX GSR, Mitsubishi Lancer Evolution III, Mitsubishi Lancer Evolution IV, Nissan Skyline GT-R, Nissan Fairlady, Subaru Impreza WRX STI, Subaru Legacy 2.0GT, Toyota Supra.
Class B - 190 to 255 horsepower cars including: Honda Accord, Honda Integra Type R, Honda S2000, Mazda Atenza , Mazda RX-7, Mazda RX-8, Mitsubishi FTO, Nissan 180SX TYPE X, Nissan Silvia, Renault Clio V6, Toyota Celica, Toyota MR2 GT-S, Volkswagen Golf GTI (Mk V).
Class C - 120 to 185 horsepower cars including: Citroën C4, Citroën Xsara, Ford Focus ST170, Honda Civic Type R, Mazda MX-5 Roadster, Mini Cooper, Peugeot 206, Suzuki Swift, Toyota MR-S, Volkswagen New Beetle Turbo.
Class D - 80 to 115 horsepower cars including: Honda Fit 1.5S, Mazda Demio, Mitsubishi Colt Plus Sport-X, Nissan March 12SR, Toyota Vitz RS 1.5L 3door, Toyota Corolla.

Battle Gear 4 Tuned has 24 tracks available to the players and are classified in 7 levels of expertise.

Players can customise appearance & performance to create their own unique ride.

2 LED 32" widescreen monitors.

Steering wheel with force feedback.

Auto/Manual 6-position Shifter.

3 Pedals including clutch for manual shifting.

Surround Amplified Sound.