Kalkomat Boxing Machines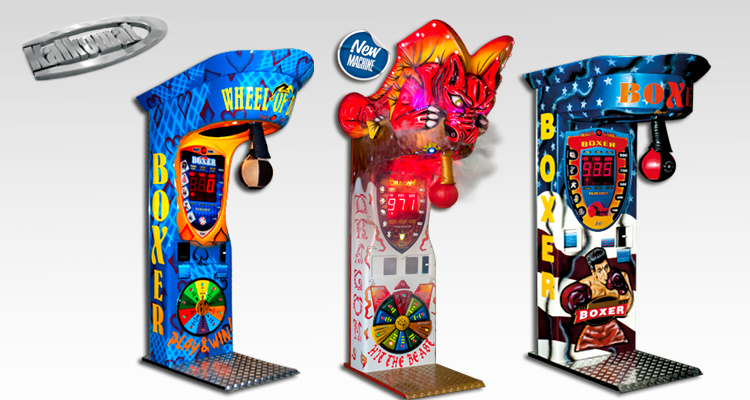 Kalkomat Dragon Boxing Machine recently introduced in Malta by ZVM Leisure.
PRODUCT OVERVIEW

ZVM Leisure operates different Kalkomat Boxing Machines for profit sharing agreements. Kalkomat are leaders in design and manufacturing of boxing machines. Kalkomat boxing machines are completely waterproof and therefore are suitable for outdoor use.

Boxing machines are a punching bag style boxing game where high scores are attained by the player's ability and strength to hit the punching bag with force and accuracy. Boxing machines provide fun and entertainment for everyone and when placed in crowded areas are capable of gathering crowds and attract attention of passersby with their attractive colors, light and sound effects. A boxing machine in your venue provides competitive game play, encourages further play and will definetly help to increase your revenue. High scores are saved and displayed as records, increasing the competitive atmosphere. Tournaments of up to 6 players can be organized and played.
KEY FEATURES OF KALKOMAT BOXING MACHINES:
Three dimensional streamlined body shapes.

Tournament of up to 6 players.

4 game types.

Elegant colours.

Impressive and catchy looks.

Artisticaly airbrushed.

Solid mechanism.

Smoke (Dragon Boxer only).

Standard power supply 230v/50Hz.
Warranty: 12 months for enterprises, 24 months for consumers.
| | | | |
| --- | --- | --- | --- |
| Specifications | Wheel of Boxing | Dragon Boxer | Boxer 3D |
| Length | 228cm | 284cm | 223cm |
| Width | 70cm | 100cm | 70cm |
| Depth | 130cm | 150cmm | 125cm |
| Weight | 130kg | 159kg | 125kg |
| Warranty * | 1 year | 1 year | 1 year |
* Refer to Warranty & Repair Policy.

AVAILABLE UPGRADES:
Ticket dispenser

Thermal printer

Capsule dispenser

Internet connection modem

Second coin- or bill acceptor