Raw Thrills - The Fast & the Furious - Super Bikes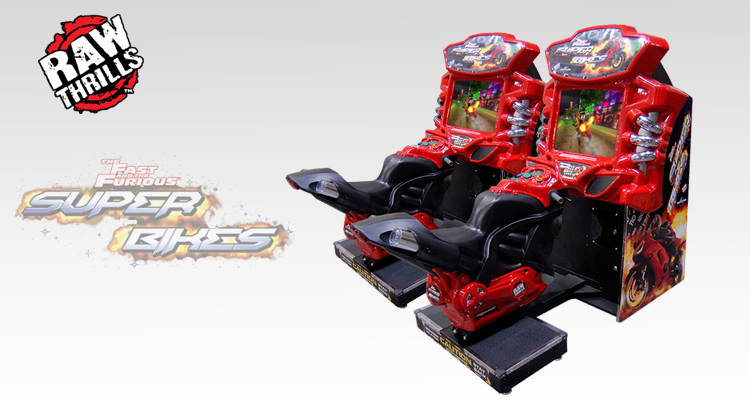 PRODUCT OVERVIEW
Super Bikes is the second game inspired by the hit movie franchise, The Fast and the Furious. It was developed and released by Raw Thrills in June 2006. Players ride on a bike while competing against each other or against computer opponents. Each player can choose from twelve licensed bikes and race on roads around the world fom Sturgis, Monaco, Chicago, Shanghai, Detroit and Switzerland. Players can customize their bikes with NOS, bigger engines and tires. Each track has shortcuts to unveil which when taken the player gains advantage over his opponents. Players can perform various moves such as helicopter spins and barrel rolls. Drifting is also an important feature of the gameplay which enables power-sliding through the curves. Super Bikes is the best motorcycle game ever released in the arcade industry and garauntees endless fun.
KEY FEATURES OF THE FAST & THE FURIOUS - SUPER BIKES.
2 players linkable game.

9 Tracks & 20 customization levels.

Different bikes to choose from including:



Ducati Monster
Yamaha YZF-R1
Aprilia RSV 1000 R
Kawasaki Ninja ZX-10R
Kawasaki Vulcan 800 Drifter
Moto Guzzi MGS-01 Corsa
Yamaha YZF-R6
Ducati PaulSmart 1000 LE
Kawasaki KX250
Yamaha Road Star Warrior
Yamaha VMAX
Ducati SuperSport
Aprilia SXV




2 CRT Color monitors, 25".

Controls: Ride on.

Steering integrated Button Controls and Brakes.

Sound Amplified Stereo (two channel).