Kriss Sport Boxing Machines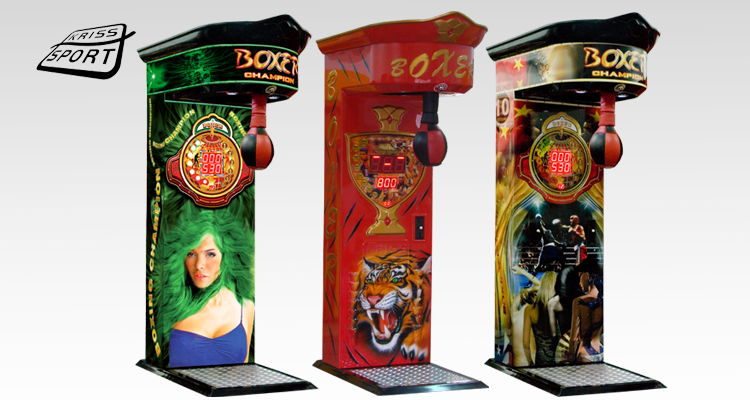 PRODUCT OVERVIEW
ZVM Leisure operates different Kriss-Sport boxing machines from the Classic Boxer range for profit sharing agreements. Kriss-Sport are considered the best boxing machines available.
Boxing machines are a punching bag style boxing game where high scores are attained by the player's ability and strength to hit the punching bag with force and accuracy. Boxing machines provide fun and entertainment for everyone and when placed in crowded areas are capable of gathering crowds and attract attention of passersby with their attractive colors, light and sound effects. A boxing machine in your venue provides competitive game play, encourages further play and will definetly help to increase your revenue. High scores are saved and displayed as records, increasing the competitive atmosphere. Tournaments of up to 6 players can be organized and played.
KEY FEATURES OF KRISS SPORT BOXING MACHINES:
Mechanism with electric servo motor.

Secure Digital Card.

Only LED lighting.

Reliable KS2 operation system.

Ticket dispenser ready.

Bill acceptor ready.

Works with all kinds of bills, coins and tokens.

High and low tones regulation

Build-in 5.5-inch speaker.

Internal 40-watt high-efficiency amplifier

Difficulty level regulation.

Electronic and mechanical money counters.

Standard power supply 230v/50Hz.
Warranty: 12 months for enterprises, 24 months for consumers.
| | | | |
| --- | --- | --- | --- |
| Specifications | Champion Deluxe | Boxer Airbrush | Boxer One Colour |
| Length | 210cm | 210cm | 210cm |
| Width | 70cm | 70cm | 70cm |
| Depth | 125cm | 125cm | 125cm |
| Weight | 130kg | 130kg | 130kg |
| Warranty * | 1 year | 1 year | 1 year |
* Refer to Warranty & Repair Policy.

AVAILABLE UPGRADES:
Ticket dispenser

SMS acceptor

Coupon printer