Raw Thrills - The Fast and the Furious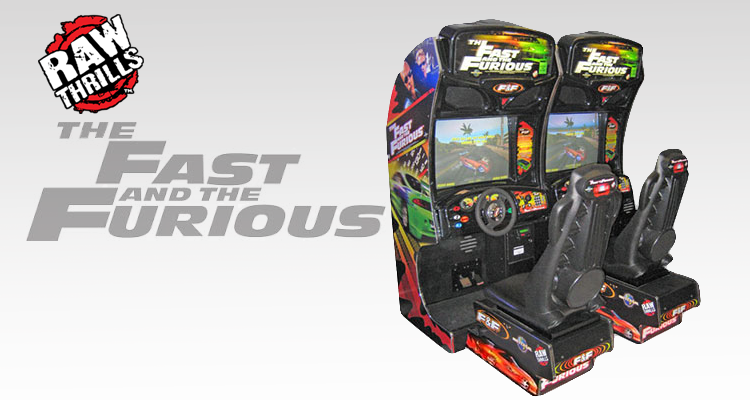 PRODUCT OVERVIEW
The Fast and the Furious is a street racing arcade game themed after the 2001 film of the same name. It was developed and released by Raw Thrills in 2004.

The Fast and the Furious street racing game allows the players to save their progress on the machine via a ten key code. Returning players are able to key code their ID and utilize their career achievement to upgrade their car every time they start a new race. There is a range of cars to choose from and other cars that you unlock when your score reach a certain level. Each track has shortcuts and other secrets where you will gain on time. Also points are given for aerial tricks and air time.

Raw Thrills utilized a simple PC for the hardware with an AMD Athlon XP 2500 processor and 512MB of RAM. The operating system used is a stripped down version of Win XP. Game linking is standard TCP/IP via 10/100 Ethernet. The original cabinets were equipped with 25" CRT monitors, but our cabinets have all now been upgraded to 32" LED widescreen monitors.
KEY FEATURES OF THE FAST AND THE FURIOUS
2 player linkable game.

12 action-packed tracks:



Times Square - A race from the Brooklyn Bridge to Times Square
Race Wars - A race Through the desert streets of Mojave, California
Chinatown - A race Through the Streets and hills of Chinatown, San Francisco
Malibu - A race Through the Beach of Malibu, California
Central Park - A race Through the streets of Central Park, New York
L.A. Ghetto - A race Through the Streets and Ditches of East Los Angeles, California
Golden Gate - A race From The Harbor to the Golden Gate Bridge in San Francisco, California
New England - A race Through the Hills of New England
Hollywood - A race From Grauman's Chinese Theatre to the hills in Hollywood, Los Angeles, California
S.F. Tour - A race from the Streets to Fishermans Wharf, San Francisco in San Francisco
Chinatown X - A harder Chinatown
Mulholland Drive - The hardest track in the game is in Hollywood

17 cars:



Toyota Supra
Nissan 350Z
Pontiac Firebird
Mitsubishi Eclipse
Toyota Celica GT-S
Nissan Skyline GT-R
Pontiac GTO
Mitsubishi Lancer Evolution
Toyota MR2 Spyder
Dodge Charger
Chevrolet Corvette
Nissan 240SX
plus others to unlock.

2 LED 32" widescreen monitors.

Steering wheel with force feedback.

Manual 6-position Shifter.

2 Pedals.

Sound Amplified Stereo (two channel).