Namco - Final Furlong 2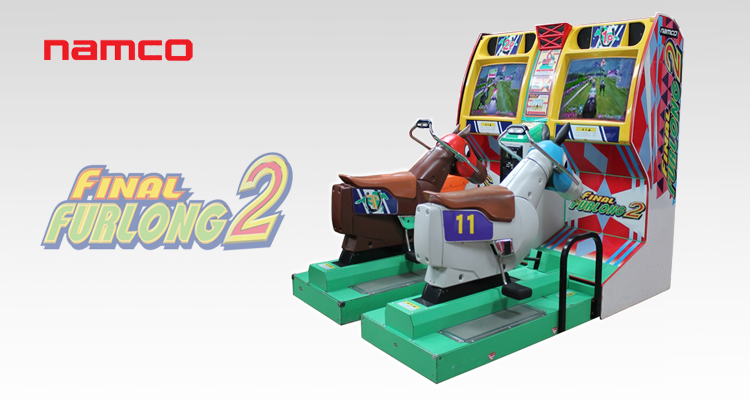 PRODUCT OVERVIEW
Final Furlong 2 is a horse racing arcade game released by Namco in 1999. It supports up to four players when a duo of 2-player cabinets are connected side-by-side. The player must ride and maneuver his horse by rocking the horse-saddle controller attached to the cabinet to race towards the finish line. The player can select from three difficulty level courses. A whip button is used to increase the speed of the horse, while pulling back the horse saddle controller slows the horse down to avoid hitting the guardrails.

This preused retro video game is for sale, for more information please do not hesitate to contact us.
KEY FEATURES OF FINAL FURLONG 2
Name: Final Furlong 2.

Manufacturer: Namco.

Year: 1999.

Genre: Simulator.

Gameplay: Two player.

CRT: Color VGA resolution.

Controls: rocking horse saddle, whip button.

Sound: Amplified Stereo.

Cabinet Styles: Horse riding simulator.